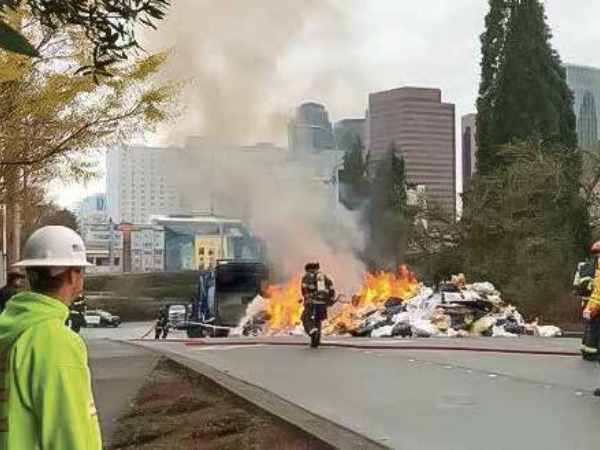 Did you know batteries can start fires inside your carts, collection trucks, and your local waste facilities? In this image, a lithium-ion battery sparked a garbage truck fire that closed a city street and put surrounding properties at risk in Bellevue, Washington. (Photo courtesy of Bellevue Police Department and U.S. EPA)
Lithium-ion batteries, found in many rechargeable devices like cell phones, laptops, and headphones, pose a fire risk when you toss them into your trash or recycling bins at home. This past summer, the U.S. Environmental Protection Agency (EPA) released a report, "An Analysis of Lithium-Ion Battery Fires in Waste Management and Recycling," analyzing the impact of these batteries when not properly recycled.
The EPA found more than 240 fires caused by lithium-ion batteries at 64 facilities between 2013 and 2020. This number is likely low, since data is limited on lithium-ion battery fires not made public or covered in the news.
Lithium-ion batteries can easily ignite when damaged, and in the process of collecting and processing curbside trash, they are likely to be damaged. Mechanized trucks typically crush waste when picking it up. At materials recovery facilities (MRFs), items travel across conveyors and tumble through a series of sorting machines. At landfills, waste is compacted by heavy equipment. The fires sparked by lithium-ion batteries not only caused damage at the facilities or to the vehicles where they occurred, but they also resulted in injured firefighters, monetary loss, and service disruptions in the community. In addition, when we trash our portable devices and their batteries, we cannot reuse the valuable materials they contain in new products.
As portable electronics continue to be a critical part of our everyday lives, our waste and recycling systems will only see more of these batteries. Take all batteries and electronics to a household hazardous waste collection facility. Better yet, use your portable electronics as long as you can, only upgrading to a replacement once your device is no longer working.
We can all do our part to ensure we properly dispose of these batteries to keep our community safe. Check with your local solid waste authority for disposal instructions in your community. For tips on disposal and recycling, read Recycle your batteries right!
Photo courtesy of Bellevue Police Department and U.S. EPA