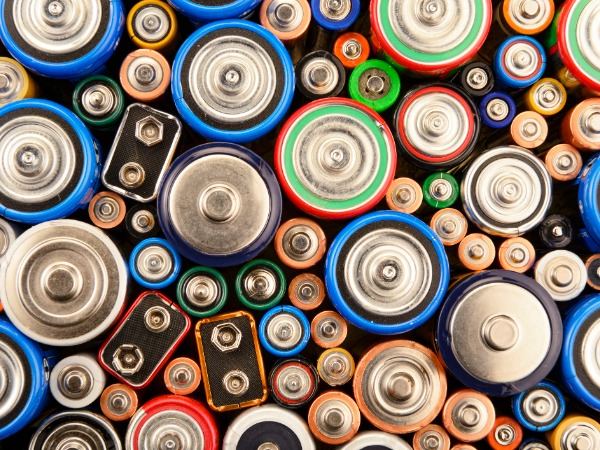 Batteries are everywhere in our lives — in cell phones, children's toys, watches, cars, musical greeting cards, e-cigarettes, light-up shoes, and more. Basically, anything that moves, lights-up or makes sound has a battery. In some communities, it is illegal to put batteries in the trash so these items require careful handling and responsible disposal due to their combustible properties. Therefore, proper storage and preparation will help prevent fire risks in our homes, collection trucks, and waste and recycling processing plants.
Batteries have "terminals" with positive and negatives sides or ends that help us install them into our devices and create the contact needed to provide electricity. If these terminals touch any metal, such as paper clips or coins, they can catch fire. This is true if the battery is in your pocket or your junk drawer. These terminals can also catch fire in much larger bins — such as a truck hauling bulky items. To read more about this, check out our recent post, The dangers of lithium-ion battery fires.
In one city, a truck transporting a bulky load caught fire after the rechargeable battery in a child's electric riding car sparked. Fortunately, no one was injured and no nearby property was affected thanks to quick response from the driver and firefighters, but the situation would have been avoided if it had been dropped off at an electronics recycling facility instead of being picked up with other bulky waste.
According to Call2Recycle, a consumer battery recycling and stewardship program, here's what you can do to ensure your batteries are stored and disposed of safely:
• Prep your batteries by bagging or taping the terminals before storage. Place each battery in its own clear plastic bag or tape the terminals with non-conductive clear packing, electrical or duct tape.
• When storing batteries before disposal, find a cool, dry place to keep them upright, still, and away from any other items (especially metals) in a plastic container. When possible, store old batteries in their original packaging. AVOID METAL!
• Don't horde old batteries. Instead, dispose of them at appropriate drop-off sites within six months.
• Do not place lithium-ion or other rechargeable batteries inside your trash can or with recyclables! Take lithium-ion batteries or devices with these batteries to a local Household Hazardous Waste facility or battery recycling center. Check with your local solid waste authority or search for battery recycling locations on Call2Recycle.
• If you see a swollen or bulging battery, don't throw it away! Immediately put it in a nonflammable material, such as sand or kitty litter, and place it in a cool, dry place. Call Call2Recycle at 877-723-1297 for instructions on disposal.
Photo: fmajor | iStock | Getty Images Plus