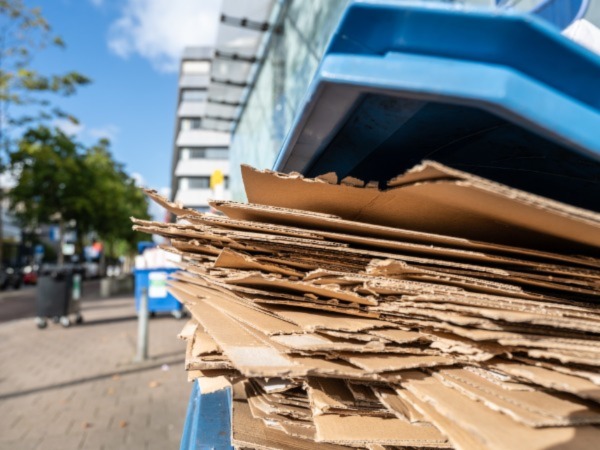 The United States saw a rise in recycling rates for both paper and corrugated cardboard (OCC) in 2021. Paper recycling rates rose from 65.7% in 2020 to 68% in 2021. To put this into more concrete terms, U.S. paper mills accepted more than 8.6 million tons of recycled paper last year. This is the greatest amount of paper recovered since 2008. Paper mills also consumed more OCC than ever before, with 24.3 million tons in 2021. That's a 91.4% recycling rate for OCC! The combined weight of all recycled products accepted at paper mills also increased by 3.9%, leading to the highest-ever recovered fiber consumption in U.S. paper mills.
The recycling industry is not content with these achievements. They are striving to increase recycling rates further. The industry has committed to making an estimated $5 billion of investments into infrastructure and new technologies through 2024 to expand its capacity to accept and handle recovered paper goods.
The use of recycled fiber has been increasing for nine consecutive years, and the industry must keep up this momentum. As Heidi Brock, American Forest and Paper Association President and CEO, said, "Paper recycling is stronger than ever and remains an environmental success story."
Brock added, "We are investing nearly $5 billion in projects from 2019 through 2024 to use approximately 8 million additional tons of recovered fiber. This reflects a longstanding commitment to invest in manufacturing infrastructure using recycled paper and improve the circular nature of our industry."
Where is the paper going?
So, where is all that paper going? After all, we are moving more and more toward the web for much of our media and communications. Emails have replaced letters in most instances, and websites and social media platforms have outpaced print newspapers.
The answer is packaging, such as cardboard boxes and paper shipping envelopes. In fact, 2021 saw the greatest increase in our capacity to produce paper-based packaging in our country's history. This makes sense. Companies have begun using more recyclable materials in packaging. Additionally, online shopping has been on the rise.
Relying more on shipping services to fulfill our needs requires more packaging to be used than simply going to the store. While the use of online retailers was already on the rise, the COVID-19 pandemic added an additional boost as people stayed inside more to protect themselves and others.
How can you help keep these numbers high?
Here are three ways you can help from the American Association Forest and Paper Association website:
Always check your local guidelines to find out what's accepted in your area.  
Keep paper products dry and clean, and flatten your cardboard boxes before placing them in the recycling bin. 
If your community doesn't accept pizza boxes or paper padded mailers, ask them to start! Share the Association's guidelines with them. 
For related information on OCC, read Be an eco-friendly mover.
Image credit: TTStock | iStock | Getty Images Plus