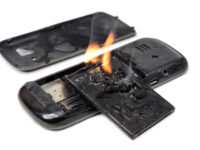 This article appeared in the Spring 2021 edition of One Person's Trash, a publication produced by Eco Partners, Inc. for Bergen County Utilities Authority. We share it here with our gratitude to the Bergen County Utilities Authority.
Lithium batteries have attracted a lot of attention in recent years. Lithium batteries are commonly found in cellphones, laptops, cordless phones, household electronics, and power tools. If damaged, lithium batteries are prone to explode or start a fire. In fact, once these batteries are damaged or punctured, they're a fire waiting to happen. If you throw that type of hazardous material into a collection truck headed to a sorting facility or landfill, all of which are full of potential "fuel," it could mean disaster.
Recently, New Jersey experienced a deep loss at a facility in the city of Passaic. The Atlantic Coast Fibers recycling facility was totally destroyed by a fire on January 29, 2021. Thankfully, no lives were lost. However, this 11-alarm fire had a significant impact on the surrounding area, including Bergen County, because more than half of its municipalities utilized this facility to process their recyclables. The fire chief on site indicated that a lithium battery in a bale was the cause of the fire.
This is not the first fire ignited by batteries at a recycling facility. Batteries are a major problem for recycling facilities since residents mistakenly think they can toss batteries in with their recycling because a recycling symbol is often printed on the label. It is important to recycle batteries and keep them out of the trash. However, they do NOT belong in curbside or drop-off recycling bins intended for mixed household recycling.
So what can you do?
• Tape the terminals of lithium batteries and/or place them into individual, sealed plastic bags to ensure protection against possible short circuits.
• Dispose of batteries through a special program. Check with your local municipality for battery recycling options in your area.
• Visit Call2Recycle for a list of battery recycling sites near you.
Photo credit: weerapatkiatdumrong |iStock | Getty Images Plus