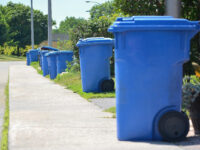 We've all heard the phrase, "keeping up with the Jones." Turns out it is true about our recycling habits, too.
At the Indiana Recycling Coalition virtual conference this summer, Kristen Kinder, vice president of research and waste stream sustainability for Wastequip, discussed the disconnect between what people say and what they do, including the fact that while 83% of Americans say recycling is a valuable service (source: The Recycling Partnership), recycling programs nationally capture an average of only 32% of the recyclable material from the waste stream, per EPA data.
As a result of this disconnect, Kristen explained that environmental education is turning toward the psychology of behavior change. "As environmental educators, we need to create new social norms to change what people do," she said. She then shared points from The Recycling Partnership's Key Concepts of Influencing Recycling Behaviors to Drive a Circular Economy which says that successful campaigns to change behavior work to create new social norms because they:
• Clarify Objectives
• Increase motivation
• Understand and lower barriers
• Measure results over efforts
• Continuously educate
To illustrate how to change behavior, Kristen referenced The Power of Habit: Why We Do What We Do in Life and Business by Charles Duhigg. Duhigg found that "about 40% of daily action is based on habit, not decision." In her presentation, Kristen then noted that social norms can predict our habits. Key to this is what she shared next: "As environmental educators, we need to create new social norms to change what people do. And what they do is similar to what their neighbors do."
So if the "Joneses" on the block are recycling, the neighbors will too! One way people make decisions is to see what others in their community are doing. Fortunately, recycling is one area where the drive to follow the neighbors' example can help line the streets with bins full of materials ready for market.
"Recycling education matters," Kristen said. "Recycling depends on people making decisions each day; recycling guidelines can vary from community to community; recycling markets and materials streams are dynamic and will be; and proper recycling equals reduced processing fees and reduced landfill disposal fees."
Photo credit: ziggy1 | iStock | Getty Images Plus