Have some back-to-school folks at your house? According to the EPA, on average, each student throws away about 67 pounds of lunch waste per year. That might be more than some young students weigh! This total includes uneaten food and food scraps, as well as single-serving packages, wrappers, lunch sacks, plastic utensils, and throw-away drink containers.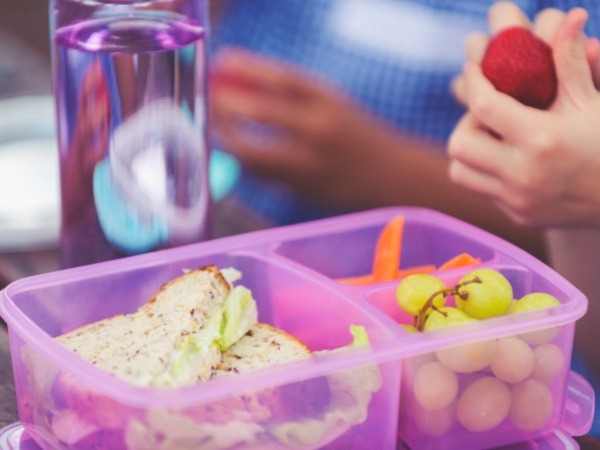 If you are back to packing school lunches, or packing for yourself, take steps to create less waste at lunch. It makes a difference! For example, let's say an average classroom has 24 students. If we multiply that number by the average 67 pounds we say each student throws away, we get 1, 068 pounds of lunchroom waste thrown away by just one class each year! In this case, just two classes of students would waste over 1 ton of food (1 ton = 2,000 pounds) per year. That's as much as a large horse weighs! Now is a great time for you and your student (or housesmates) to plan to make less lunchtime waste.
Where to start
Here are some tips that will help you get started.
♦ When you buy lunch at school or work, choose foods that you'll eat and eat what you've taken. If the school has a food-share table, drop off unopened, unused lunch items at the table before returning your tray.
♦ If you bring lunch from home:
o Choose a reusable bag or lunch box.
o Place foods into washable, reusable containers. You can buy containers, or you can wash and reuse tubs that once held deli salads, salsa, dip, or cream cheese.
o Bring a drink in a reusable or recyclable bottle. If the bottle is reusable, take it home to wash and refill. If the bottle is recyclable, put it into the correct bin at school or work or take it home for recycling.
o Bring forks or spoons from home instead of using plastic ware. If your school doesn't allow metal silverware, choose heavyduty plastic or bamboo that can be washed and reused many times.
o If you purchase single-serving containers, look for recyclable containers, such as steel cans. Take your empty cans home for recycling or place them into the recycling bin at school, if available.
o Only bring what you will eat. If you have leftovers, put them back into your reusable containers and take them home to eat later.
Image credit: courtneyk | E+ | Getty Images