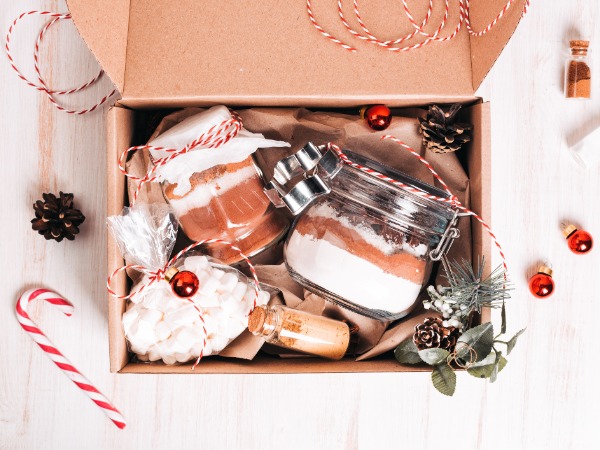 Did you start your shopping early this year? While retail stores continue to operate with limited stock, staff, capacity, and hours, many of us are doing our holiday shopping online. Although it may be convenient and contactless, online shopping significantly increases our waste production, especially when it comes to single-use plastics used for packaging. One great way to be sustainable during the holiday season is to practice zero-waste gifting! Here are just a few ideas to help you get started:
• Create your own homemade personal care products, such as essential oil sprays, candles, and soap bars — Mix and match scents to personalize your gift.
• Plant house plants and succulents in unique, upcycled containers — Old bowls, cans, and jars can all be used as planters and they can be painted for a fresh look.
• Make homemade cocoa mix, baked goods, sauces, spice blends, and family recipe kits — Who doesn't love a yummy treat made with care?
• Give sustainable products, such as bamboo-made goods (straws, utensil sets, and toothbrushes), a backyard compost bin, a washable cotton coffee filter, or an insulated beverage bottle are good green gifts.
• Shop for local specialties, like a bag of gourmet coffee beans from your local roaster or bottle of wine from a nearby vineyard — By supporting local businesses, you can stimulate the local economy and reduce the environmental impacts of shipping goods.
• Think of intangible gifts, like a subscription to an online magazine, music service, or video-streaming platform, or a donation to a charity made in a loved one's name.
There are so many ways to show that you care while still being sustainable! Just search online for recipes and instructions. If you do decide to shop online, please consider reusing packaging materials for gift wrapping or storing holiday decorations. Leftover boxes can be used to hold delicate gifts and paper grocery bags can be used as gift wrap. Be creative with the packing you do receive.
Do you have zero-waste gifting ideas? We'd love to hear from you!
Photo credit: Dasha_Romanova | iStock | Getty Images Plus