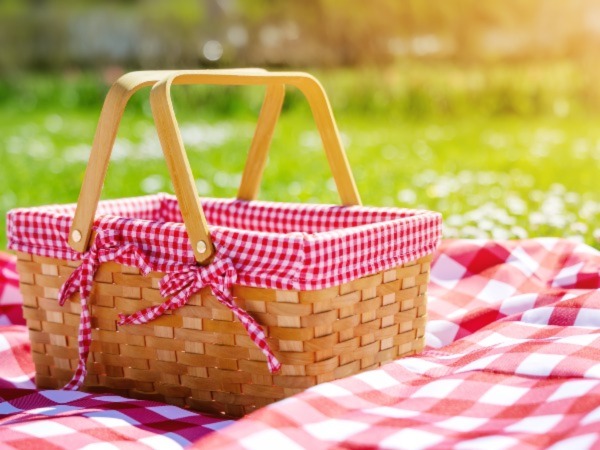 For those of us in four-season climates, Memorial Day weekend is the unofficial start to summer and outdoor picnics. Cooking and eating outside can be fun, but moving the celebration indoors also works on rainy or too-hot days.
According to this blog post from the Ontario Parks Department, "Up until Victorian times, picnics were exclusively enjoyed by the wealthy. After all, picnics were very grand affairs with tables, linens, crystal, chairs, servers — and gourmet fare, of course!"
You can see that this required a lot of effort to pull off. But over time, picnics become something everyone could enjoy. Unfortunately, as they became less labor-intensive, they also began to rely on disposables. While this made for easier picnicking, it also led to bags of post-picnic waste.
Fortunately, we can avoid the waste! So whether you're enjoying family meals in your own backyard, on a blanket inside, or elsewhere, put the three R's to work. Here are simple tips for reducing, reusing, and recycling at your get-togethers this summer:
Reduce
Eliminate food waste. Plan ahead so that you don't have too much food. If you do have unusable food left over, be sure to compost it.
Picnics often mean using disposable plates, cups, forks, and napkins. Save money and reduce waste by substituting with reusable ones. Avoid Styrofoam coolers and cups.
Reuse
Select washable plates, cups, and silverware. Wash, rinse, and dry items thoroughly after use. Choose sturdy, reusable plastic or metal items instead of glass for outdoor use, especially around swimming pools and beaches.
Instead of paper napkins, which can easily blow away and become litter, consider using washable napkins, small hand towels, or washcloths.
If you use "disposable" plastic cups, plates, forks, and spoons, don't toss them in the trash. Thoroughly wash and reuse. Or look for compostable disposable picnic ware.
Recycle
Collect bottles and cans for recycling. Remember, aluminum cans are infinitely recyclable and unbreakable, making them an excellent choice for your gatherings.
If you are out enjoying nature away from home, please dispose of your waste responsibly. Bring recyclables and any waste home for disposal if you can't find recycling and trash bins on site.
Read Celebrate Summer the Green Way for more on having an environmentally conscious summer.
Image credit: LeManna | iStock | Getty Images Plus