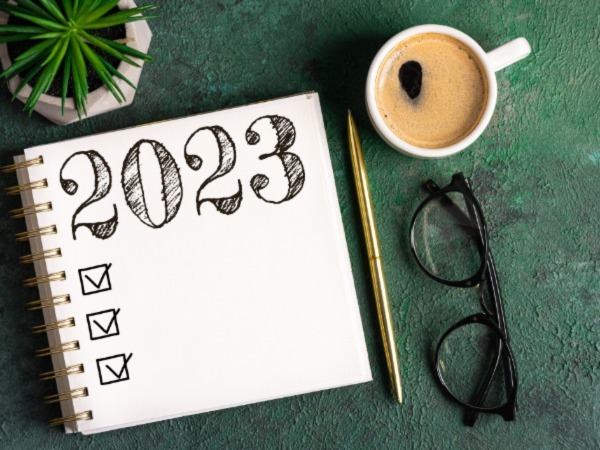 Happy New Year! Are you choosing resolutions for 2023? One of the most common New Year's resolutions is to spend less money. The easiest way to do this is to reduce what we are consuming. When we spend and consume less, we also reduce our waste.
Here are some tips to help you reduce your consumption, save money, and reduce waste in the new year.
This year, resolve to:
Buy less: This may seem obvious, but maybe you can put a little more thought into it. We have kitchens full of single-use gadgets and appliances. Before buying something, ask yourself two questions: "Do I really need this?" and "Do I already have something that would serve the same purpose?"
Borrow instead of buy: Before you buy something that you won't use often, look for someplace where you can borrow it. Get books, movies, and magazines from friends and family or the library. Share yard tools with a neighbor. If you are hosting a big party, borrow extra plates, silverware, glasses, and cookware from a friend or family member. Need an outfit for a special occasion? Ask to look through a friend's closet or consider a rental.
Use your own bags, bottles, and mugs: We all do it — we keep reusable bags in our cars and then walk into the store without them. To avoid this, place the bags somewhere you won't forget them, such as next to the car seat so you see them when you get your child out or next to you in the front seat. Reusable bags aren't just for the grocery store; take them along for any shopping you do. Always carry a water bottle or coffee mug with you; most places will fill your bottle or mug instead of giving you a disposable cup. If you often find yourself throwing away straws or disposable cutlery, consider keeping reusable versions of these items with you to avoid waste.
Give up disposables: Avoid buying bottled water. Use cloth napkins, towels, and rags in your home. Eat meals on dishes, not paper, plastic, or foam plates and bowls. Keep reusable containers in your car for when you have leftovers at restaurants. Choose containers with lids that stay firmly closed and you've already improved upon the traditional restaurant containers.
Order online smartly: Online shopping makes binge spending very easy. It also brings a lot of packaging into your home. Order wisely and choose the quick-shipping option only when needed, opting for shipping your items together instead of separately.
Take good care of your electronics: Keep electronics operating as long as possible and you'll save money and conserve resources. Regularly upload pictures and videos to the cloud or a home hard drive and delete them from your mobile device to free up storage space. Don't let the battery go dead before charging it to full. Instead, charge the battery a little at a time, as often as possible. Leave your laptop plugged in while you use it and unplugged when it's turned off. Don't expose your device to either extremely high or low temperatures. Use both a case and a screen protector for cell phones, e-readers, and tablets. Frequently clear the cache and remove temporary files to keep your device running smoothly.
Buy fewer batteries: Many gifts come with "batteries not included." Consider purchasing rechargeable batteries for new and frequently used items. Rechargeable batteries can be reused multiple times with the help of a charging dock. However, even rechargeables eventually die. When this happens, be sure to recycle them. Harmful chemicals and metals in rechargeable batteries don't belong in landfills and can be recycled to make new batteries.
For more tips, check out Good Housekeeping's Five Green Resolutions to make in 2023 or the Chicago Daily Herald's Not sure how to keep that resolution to be more eco-friendly? Start small
Image credit: LanaSweet | iStock | Getty Images Plus