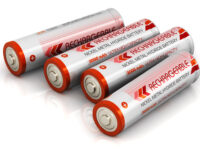 You pick up the remote, but no matter how hard you press the buttons, it won't work. It's time for new batteries. Once you find the new batteries you need, what should you do with the old ones?
So much to do and think about when all you wanted was to sit down and watch your favorite show or newscast! We count more and more on battery power to keep all of our favorite devices working. Here is what you need to know to make life with batteries easy and green.
Some batteries are called single-use and some are rechargeable. Single-use batteries are "alkaline." These are like little pre-charged packages of energy. When you put an alkaline battery into a device, the metals inside the battery begin to create energy immediately. When the battery is out of energy, it can no longer be used, which is why we call them "dead batteries."
Rechargeable batteries are made so that when the energy is drained, they can be recharged in a special charging unit or be plugged in with a charging cable. They can be used again and again, and many can be charged up to 1,000 times before they need to be replaced.
Whether you are using single-use alkaline batteries or rechargeable batteries, it is best to recycle them when you are finished using them. Single-use, alkaline batteries may be thrown into the trash, but it is better to recycle them if you can in your community. This reduces waste and conserves resources. Rechargeable batteries, however, contain dangerous materials that shouldn't go into landfills. Be sure to recycle rechargeable batteries for free at Lowes and Home Depot stores. You can also check Call2Recycle.org to find additional battery recycling locations near you.
The next time you need new batteries for the remote, a game controler, or another device, wouldn't it be nice to have exactly what you need all charged up and ready? With rechargeable batteries, you don't need to make as many trips to the store for new batteries. Keep two sets so you always have a set in use and another set charged and ready to go. You will feel great knowing that you are keeping our planet green by reducing waste and energy use.
Photo credit: scanrail | iStock | Getty Images Plus