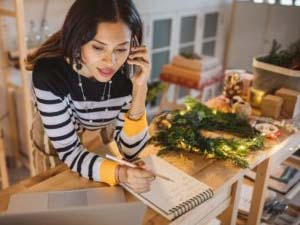 If you're following the news, you know there's a lot of coverage on the supply chain issues this year and the impact they will have on holiday shopping. While late October may feel too soon to start shopping, apparently we can't start soon enough this year!
How about making your gift-giving a little less stressful and turning it a brighter shade of green? Would you like a season that focuses more on people than stuff? Grab your pen and paper and get started! Here are some ideas to mix, match, and make your own!
•Make a list and check it twice.
Write down the names of people on your gift list.
•Create a realistic budget.
Decide how much you would like to spend on holiday travel and giving. Use this total to determine how much you should spend for each gift.
•Give the gift of your time.
Giving your time is budget-friendly, improves relationships, and creates less waste.
•Make unique, homemade gifts.
Put your skills to work. Make homemade food or handcrafted items. Record a child's performance and send it to a far-off relative. Be creative!
•Give experiences.
Is anyone on your gift list a sports fan or arts enthusiast? Give tickets to a game or performance, a movie gift card, a museum or zoo membership, or park passes.
•Plan ahead and know your recipient.
Last-minute shopping can lead to breaking the budget and choosing less- than-perfect gifts that are more likely to be returned, regifted, given away, or even tossed into the trash. Talk to friends and family members about possible gift ideas and find out clothing sizes and other essentials.
•Remember your bags.
Reusable shopping bags aren't just for groceries. Use them for all of your holiday shopping.
•Wrap it up.
Reduce wrapping paper waste when possible. Choose reusable gift bags. Use non-traditional gift "wraps," such as a dish towel, scarf, fabric scraps, or old maps. Collect reusable ribbons and gift bags and store them away for next year. If you choose to purchase holiday wrapping paper, avoid the shiny, foil-lined wrapping paper, as it is not recyclable.
•Remember — it's the thought that counts.
We all love holiday gifts. But no one wants to give or receive gifts that are unwanted, regifted, unused, or thrown away. Perhaps there is a better way to honor your relationships while reducing unnecessary costs and waste. The planet and your bank account will thank you.
Credit: svetikd | iStock | Getty Images Plus