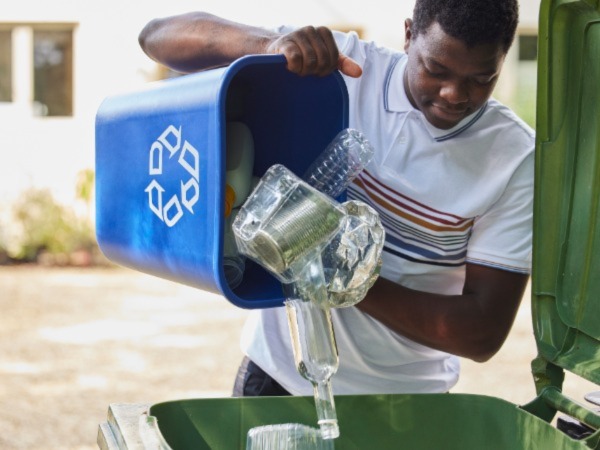 Recycling has had a bumpy road the past few years as local programs and recycling processors have adapted to changing overseas markets, faced transportation challenges here in the U.S., dealt with the impacts of a global pandemic on collection and processing, and struggled to meet the demand for paper products to make new cardboard boxes. However, what has remained true is that recycling still matters because it conserves and reuses natural resources, reduces water and air pollution, saves energy, and creates many jobs.
Did you know that over 70% of our recycled materials are delivered to factories in the United States? U.S. companies continue to make investments in recycling and seek new ways to innovate in remanufacturing recovered materials. According to the Institute of Scrap Recycling Industries (ISRI), the U.S. recycling industry supports more than half a million American jobs. Plus, recycling glass saves 34% on energy compared to using new materials, and recycling aluminum saves 96%.
Choose, Use, and Renew
In ISRI's "Recycling Is Essential" campaign, we are encouraged to "choose, use, and renew." Here's what you can pledge to do:
Choose:
Materials made out of recycled goods
To be less wasteful
To make the planet a better place
A lifestyle that is more sustainable
Use:
Best practices when preparing materials for recycling to reduce contamination
The correct containers to sort materials for pickup
Your passion to motivate others
Your knowledge to get it done right
Renew:
Our planet and sustain our natural resources
Your faith in recycling through the amazing efforts of recycling industry partners
The products you use by giving them another life
To learn more about recycling and best waste reduction practices in your community, check with your local solid waste authority.
Credit: Daisy-Daisy | iStock | Getty Images Plus