Remove and donate — don't demolish and trash your home renovation materials.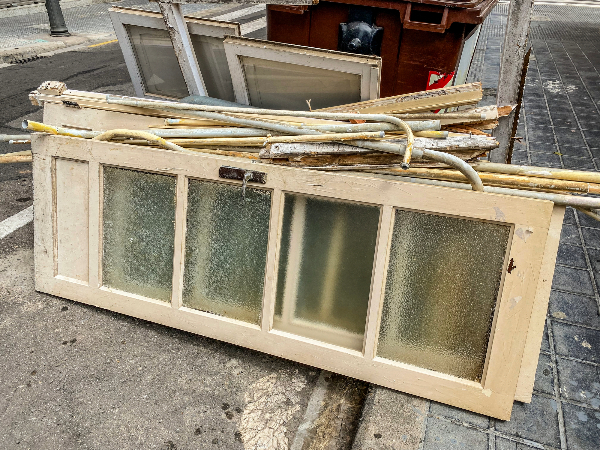 Home improvement is an exciting but messy business whether you are a do-it-yourselfer or work with a professional. Once the job starts, the disarray, dust, and debris can seem to seep into every crevice of your life, and you just want it done.
Before you begin, consider what you will do with your salvaged or surplus materials. In short, try to return, sell, donate, and recycle as much as possible. When choosing a contractor, ask if they plan to recycle and can remove materials for donation.
Here are some simple ways to reduce home remodeling waste:
Be smart when ordering supplies. Accurately determine how much tile, flooring, fixtures, and paint you need. Sometimes, it is advisable to order extra supplies but don't go overboard. Research online and make reasonable calculations. Know the store's return policy before you buy; save and return unused items.
Remove items intact whenever possible. Step away from the sledgehammer glorified on many home improvement shows! Unscrewing kitchen cabinets or removing intact sinks and countertops is easier, safer, and creates less mess. These items can now be donated and kept out of the landfill.
Know how and where to donate or sell. Check local online marketplaces like Facebook, Craigslist, Nextdoor, or Freecycle to find someone interested in buying your items or hauling them away for free. Contact the nearest Habitat for Humanity ReStore about donating materials. Or check out the website donation town which has an extensive directory of charities, as well as a feature where you can schedule a free pickup of donated items based on your ZIP code. Remember, donating is cheaper than paying tipping fees at the landfill, donations may be tax deductible, and it's better for the environment!
Be realistic when donating items. Any partially damaged items should be offered as-is on an online marketplace. Any unusable, shattered, or moldy items should be thrown away. Use common sense. Donating items such as rotted wooden boards or broken appliances to charities does not help them; it costs them money!
Don't forget to recycle. Some construction debris can be recycled. Check with a local scrap yard to see if they accept aluminum siding or gutters, metal radiators, grates, piping, and other metals. And don't forget to recycle the cardboard packaging from new products and the containers from beverages consumed by workers onsite.
Donating your renovation materials keeps functional — and often desirable — items out of the landfill. If you have a location nearby, find out which items can be donated at Habitat for Humanity's ReStores.
Image credit: FotografiaBasica | iStock | Getty Images Plus