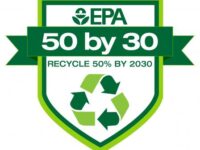 Did you know the national recycling rate is just 32%? We can do better! As a part of its work to inspire action and recycling participation across the country, the U.S. Environmental Protection Agency (EPA) announced a new National Recycling Goal — to reach a 50% recycling rate by 2030, or "50 by 30."
At the 3rd Annual America Recycles Summit in November 2020, EPA Administrator Andrew Wheeler shared that, "When the EPA was established 50 years ago in 1970, the national recycling rate was well below 10 percent." He went on to add, "We had a steep increase in recycling rates in the 1990's that brought the rate up to the mid-30 percent range. But for the last twenty years or so, the recycling rate has remained mostly flat."
Wheeler then announced the first-ever National Recycling Goal: to increase the national recycling rate to 50 percent by 2030 – 50 by 30. He also cautioned his listeners that, "Reaching this goal will not be easy. But it will be important. Implementing this goal will require collaboration at all levels of government and across the value chain."
Recycling is critical to improving the U.S. economy and conserving natural materials by turning them into new products. By recycling more, we support U.S. manufacturing, create jobs, and import fewer raw materials. The National Recycling Goal intends to challenge Americans to commit to conserve our national resources and improve our nation's recycling systems.
To track progress towards this goal, the EPA put three measures in place: reduce contamination, make recycling processing more efficient, and strengthen the market for recycled materials. To move from 32% to 50%, governments across the U.S. will need to review how recycling is collected and sorted in their communities to reduce contamination and increase processing efficiency. Individuals can help by increasing the demand for products made from recycled materials and avoiding contamination in both curbside and community recycling bins.
Meeting this recycling goal requires all of us to recycle whenever possible and to do it right by putting the right empty, clean, and dry materials into your recycling. We can all make a difference and make it to 50 by 30.
To learn more about the National Recycling Goal, watch this brief video.