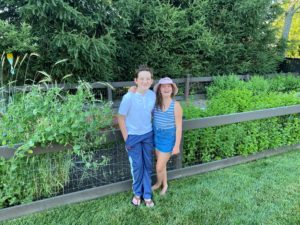 Twelve-year-old Leo and his little sister Layla from Carmel, Indiana, love to show other kids how to make compost. Compost is made from rotting plant-based materials that have been broken down naturally by bacteria and other microorganisms. Composting can take all the garbage that comes from plants — like leaves, banana peels, leftover peas, and even paper — and recycle it to make a nutrient-rich soil amendment that is great for plants and the environment.
Leo, Layla, and a group of their friends formed a group called the Helping Ninjas about four years ago. According to Leo, Helping Ninjas are "highly skilled at helping," and they do all sorts of projects for people and the environment. Over the years, they have planted organic gardens and donated the vegetables they grew to a nearby food pantry, they have planted pollinator gardens, they have taught students about composting, and more.
Leo and Layla first started composting in 2018, when the Helping Ninjas applied for a Carmel Green Teen grant to pay for seeds and supplies to plant a garden and teach other kids in the local elementary schools how and why to compost. This was one of Leo's favorite projects. The students worked with their school cafeteria manager to start composting cafeteria scraps (apple cores, leftover carrots, potato peels, etc.) by using a school worm composting bin that could also be used by teachers as a fun, educational tool. Leo noted that composting with worms is called vermicomposting.
"I think it is important that all kids learn how to help the Earth by composting," says Layla. The Helping Ninjas have been busy doing their part, teaching over 150 kids in after-school programs throughout their area how composting works by having them make take-home, mini compost bins in glass jars. Leo, Layla, and the Helping Ninjas continue teaching kids and adults to compost. Composting is easy and inexpensive because you just use what gets thrown away anyway. In America, food scraps and yard waste together make up about one-third of what we throw away, so composting at home and at school can provide free plant food while keeping a lot of garbage out of landfills. Compost can be used as a nutrient-rich soil amendment to create healthier lawns, flowers, gardens, or other plants.
Layla adds, "Whether you are a kid who likes composting, planting flowers for pollinators, or recycling, every little bit helps." Find your inner ninja and try composting today!
Learn about the Helping Ninjas or how to start a group of your own at their website.
Photo courtesy of Lindsey Berry of Helping Ninjas