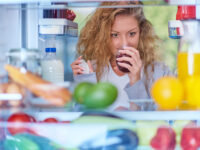 While recently with family, someone suggested that the chicken salad I was eating had been around too long and I should stop eating it. "Why?", I asked. "It smells and tastes fine and I have suffered no ill effects." The reply was that five days was too long to keep it. But was it?
When to keep and when to pitch is an ongoing debate in many homes. And "sell by" and "use by" dates only add to the confusion. A new campaign called "Look, Smell, Taste, Don't Waste" from the United Kingdom's "Too Good To Go," aims to help clear the confusion.
On the January 26 launch of the new campaign, Jamie Crummie, co-founder of Too Good To Go, said, "Date labelling has long caused confusion and unnecessary food waste in the UK. If we are to make significant strides to reducing food waste, we need to take action now. This is why we're launching our national, industry-wide 'Look, Smell, Taste, Don't Waste' campaign."
The campaign urges brands to switch their products from "Use By" to "Best Before" labels where appropriate and then include a reminder on the packaging for consumers to use their senses to decide whether to eat food past its "Best Before" date. So far, 25 food brands have joined the campaign, and Too Good To Go is calling on others to follow.
The anti-food waste company aims to help all food in the U.K. to be eaten, not wasted. To that end, Too Good To Go sponsors an app by the same name to help end food waste. The app connects consumers with surplus restaurant food in the U.K. It also launched late last year in New York City and Boston here in the states.
To read more about how you can prevent food waste, check out Food Waste Reduced: Check! and A Food Diary Helps Reduce Waste.
Photo credit: millann | iStock | Getty Images Plus