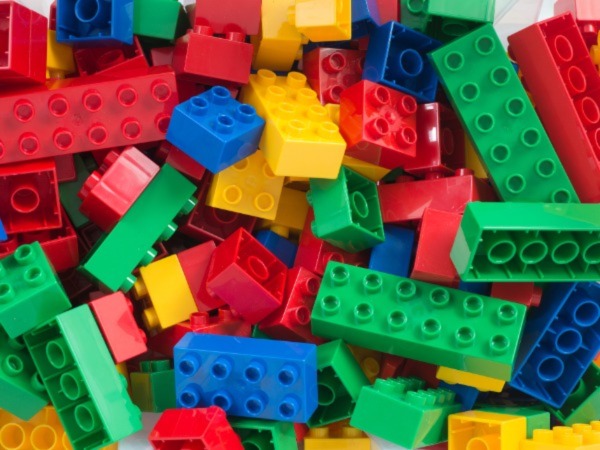 It's almost time for spring cleaning and decluttering the house. Is a toy closet on your list of places to work? Perhaps some new toys arrived over the holidays and it's time to donate some of the old toys moved to the back of the closet. If those old toys include LEGO or DUPLO blocks, you have a lot of great options that lead to reuse.
Like most toys, LEGOs cannot be recycled. Sadly, there are tons of broken or unwanted plastic toys in landfills all over the world with more added every day. This bothered the LEGO company so much that they decided to do two things about it. First, they promised to find a way to make their LEGO bricks out of something much better for the planet by the year 2030. And second, they created a program called LEGO Replay, which allows kids and adults to donate their unwanted LEGOs to charity so they don't end up in landfills.
Donating with LEGO Replay is easy.
To donate to LEGO Replay, just go to their website and print a free shipping label. You will need a shipping label for each box you want to donate. Box up your unwanted LEGOs and mail them off for free. The LEGOs go to a workshop in Alabama where employees sort, clean, dry, and package the LEGOs so that other kids can use them. Donated LEGOs go to kids involved with programs like Teach for America and Boys & Girls Clubs. Since this program started, people have donated 841,441 pounds of LEGO bricks and 199,050 children are playing with LEGO Replay bricks!
Plus, there are other options.
Like other toys, games, clothing, and household items, LEGOs can be donated to local charities like Goodwill or The Salvation Army. They can also be offered to your school or a local Boys & Girls Club or after-school program. And if you are looking for a small profit, try selling your LEGOs through online marketplaces like Nextdoor, Craigslist, OfferUp, Facebook Marketplace, or eBay.
If you don't mind paying for shipping, you can donate your LEGO bricks to BrickDreams, a nonprofit group started by two young boys in 2012. LEGOs are collected and given to nearby charities. Visit BrickDreams for details.
Whether you sell or donate your unwanted LEGOs, finding them a new home will make both you and the new owners very happy, which might make it a bit easier to "LEGO" of them!
Image credit: wakila | E+ | Getty Images