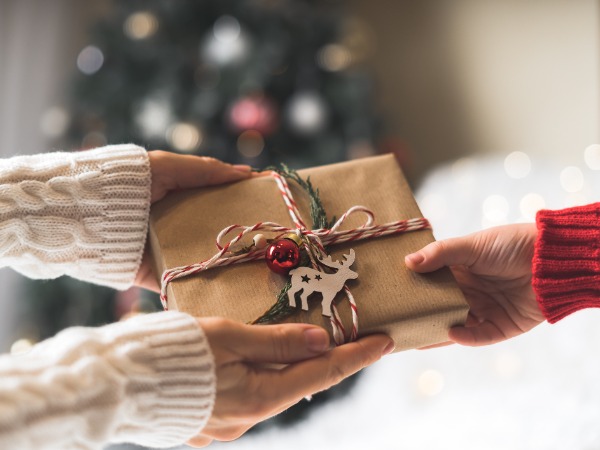 We're getting down to the wire for holiday gifting and celebrating! Would you like to make your holiday season a little less stressful and turn it a brighter shade of green? Would you like a season that focuses more on your relationships than your stuff? Would you prefer a season with more merriment and less waste? Here's some ideas that will help.
Make a List and Check It Twice: Write down all of the names of people for whom you normally buy gifts. Is there someone on the list that you'd like to see more often? Instead of giving a gift, make arrangements to get together. Could someone on your list use company throughout the year? Avoid buying a gift and, instead, promise a monthly visit. Do you have adult family members on the list? Suggest a dinner together in lieu of gifts, donate to a charity that you select as a group, or draw names and buy for just one person. Remember, in most relationships, gift-giving is a two-way street. If you want to change the rules this year, communicate with friends and family members about your ideas and suggestions. They will probably be glad that you were brave enough to bring it up!
Plan Your Spending: Now that you have a plan, decide how much you want to spend on holiday giving. Once you have a total, estimate a budget for each person on your list. Remember that the little extras, such as stocking stuffers and accessories, can add up. As you begin to shop, keep track of your receipts. Periodically evaluate how much you're spending compared to the budget that you developed.
Priceless: Consider gifts of yourself and your time. These gifts improve your relationships, cost nothing, and create no waste. For example, you could offer to visit a friend and bring all the fixings for a homemade dinner — and then make it together. You might schedule a game or movie night for family or friends. You could offer to babysit for an evening or, even, a weekend. No children in the family? Offer to pet sit or house sit. Volunteer to clean up the yard in the spring or mow the lawn. The possibilities are endless.
Made With Love: Another way to give of yourself is to put your skills to work by making homemade gifts. If you preserve food or jams, give some away as gifts. Make a recording of a child's performance or an "interview" that gets the child talking about friends, school, and activities, and send the recording to a far-off relative. Refresh a family memory by making your brother the cookies that Grandma used to bake at the holidays. Decorate an old picture frame with fishing lures or bobbers and add a photo of you and your dad fishing together. Put your old jewelry, clothes, and hats into an unneeded suitcase to create the perfect dress-up chest for a child. We're sure you can think of many other ideas that reflect your own hobbies or honor the skills that a family member or friend passed along to you.
Experience the Drama: Do you have friends or relatives who love a certain sports team but don't go to games very often? Give them tickets! Not sports fans? Give tickets to a concert or play, a movie gift card, a museum membership, or park passes. If you have a friend who is interested in learning something new or becoming an expert on a favorite hobby, offer to pay for a class. Whether it is photography or spreadsheets, there is probably a class offered somewhere.
Know Your Recipient: Waiting to the last minute to shop can lead to breaking the budget and choosing less-than-perfect gifts. When you are out of time, anything near a checkout seems "good enough." However, a good-enough gift is likely to be unused. At best, it will be returned, re-gifted, sold, or given away. At worst, it will be forever unused and, eventually, thrown in the trash. Knowing what a friend or family member likes and dislikes, as well as knowing sizes and other essentials, can lead to thoughtful gifts that don't waste your time and money or end up as trash. If you don't have time to find a gift that will reflect the recipient, give a gift card instead.
Remember to Reuse: Reusable shopping bags aren't just for groceries! Wherever you are shopping for holiday gifts — antique stores, secondhand stores, or the mall — carry your own reusable bags with you to the store. Rather than dealing with lots of plastic shopping bags when you get home, you can begin sorting and wrapping.
Wrap It Up: And speaking of wrapping, remember to wrap without waste. Reuse last year's paper (and save this year's for next year). Choose reusable gift bags. Decorate boxes that you use each year for the same person. Use fabric scraps, magazine pages, colorful brochures, or old maps to create unique wrapping "paper."
Credit: Anna Ostanina | iStock | Getty Images Plus