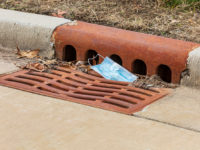 The COVID pandemic continues to take a toll on people worldwide, especially with the rise of the Delta variant. As a consequence, the use of personal protective equipment (PPE) like masks is again commonly recommended. And that means more masks are ending up as litter.
Helen Lowman, Keep America Beautiful President and CEO, comments, "In the face of this pandemic, we ask everyone to help maintain their community environment at this time — and always — by putting PPE, as well as everyday trash and recyclables, where they belong and not on the ground."
Help eliminate mask, glove and wipes litter and help the environment with these tips:
• Use washable, reusable, cloth face masks, whenever possible.
• NEVER throw masks, wipes, or latex gloves on the ground or in the recycling bin. They belong in the trash can.
• While hiking, biking, or walking, secure masks that aren't in use by placing them in a zipped pocket or by adding a neck strap or lanyard.
• Cut disposable mask elastic ear loops before throwing them away to prevent wildlife from getting tangled.
• If you see littered masks, wipes, or gloves and want to put them in the trash, thank you! But please only do so while wearing gloves and wash your hands immediately after any cleanup project.
For resources on how to safely clean up litter near you or to join a local cleanup event, visit Keep America Beautiful. For more on PPE litter cleanup, check out Meet Some Amazing Cleanup Volunteers and Thanks for Protecting Your Neighbors, Yourself, and Our Planet.
Please do your part to stay safe, but keep the health of our planet in mind, too. Working together, we can get through this.
Photo credit: JJ Gouin | iStock | Getty Images Plus