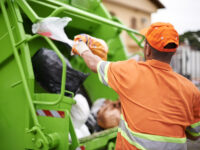 Each year during June, there is a national celebration of our Waste and Recycling Workers, the men and women who keep our local neighborhoods safe and clean.
During the pandemic, we discovered that the term "essential workers" includes many hardworking people who often fly below the radar, quietly and efficiently doing their jobs so that we all can live comfortably.
Our local waste and recycling workers are undeniably essential. While they have always put the community's well-being above their own, throughout the pandemic they have truly gone above and beyond to keep us safe and our communities clean. From drivers to material sorters, maintenance workers, facility staff, customer support representatives, cleaning staff, and more, these men and women have continued to work hard to provide the services we need.
As the pandemic restrictions now begin to ease, these essential workers will continue to work hard to keep our communities clean and sustainable. Please give them a special thank you for their hard work! If you want some ideas, here are a few to get your started, thanks to inspiration from the Waste and Recycling Workers Week website.
Tweet your thanks on Twitter to your local Department of Public Works or Solid Waste Management District.
Better yet, give them a call to share your thanks for all their hard work.
Have your kids make posters and place them by the waste cans so they can be seen on pickup day.
Take them homemade cookies or a bottle of cold water and a thank you note when your solid waste and recycling workers arrive on your street.
Photo credit: PeopleImages | E+ | Getty Images Plus