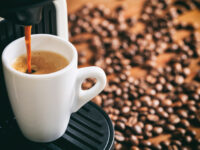 Thanks to our friends at the City of Burbank Public Works for sharing these great tips. This is adapted from an article which appeared in the Winter 2021 edition of Reduce, Reuse, Rethink, a publication produced by Eco Partners, Inc. for the Burbank Recycle Center.
The morning ritual of grabbing a cup of joe on the way to work has been affected as many of us work from home during the pandemic. Brewing our own coffee has made a small dent in the 60 billion disposable, unrecyclable beverage cups generated in the U.S. each year. However, unrecyclable coffee packaging and other convenience trends, like single-use coffee pods and sugar packets, still add to the waste stream.
If coffee waste is giving you "ecoguilt jitters," here are some simple tips:
Avoid Unrecyclable Packaging and Supplies
• Plastic bags of beans or ground coffee
• Cardboard canisters
• Single-use pods
• Paper bags lined in plastic
• Plastic stir sticks
• Single-serving creamers and sugar packets
Make Positive Changes
• Buy beans from the bulk section where available.
• Seek brands in easy-to-recycle tin cans (reusable and recyclable).
• Select unbleached paper or washable and reusable filters.
• Invest in a French press which won't require a filter at all.
• Reuse grounds in gardening, compost or facials. Check Pinterest for more suggestions.
• Communicate with stores and companies encouraging them to switch to more responsible packaging.
You can also use refillable pods instead of disposable. Check out Love Your Coffee; Lose the Waste! and Have Coffee. Will Travel.
Photo credit: Rawf8 | iStock | Getty Images Plus