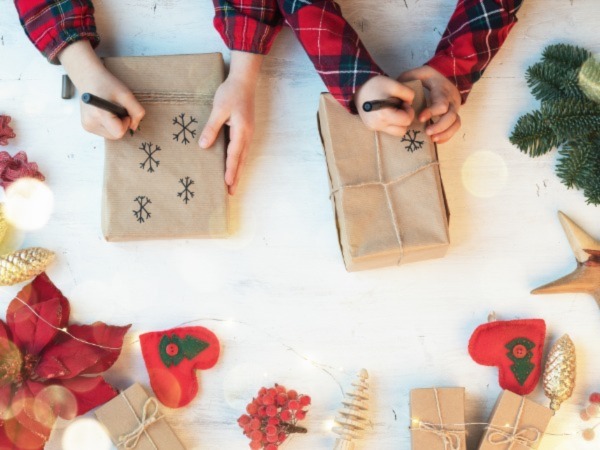 We all love giving and receiving gifts year-round, but it's extra fun during the winter holidays. All the merry celebrations include lots of gift-buying and giving. While fun to exchange with family and friends, the many wrappings and gift bags can create a lot of waste.
If you choose to wrap your gifts this year, consider fun, reusable materials instead of traditional, expensive wrapping paper. Remember that most wrapping paper is not recyclable, especially the metallic style. Neither are the bows and ribbons and many gift bags.
But you do want your gift to look nice and show the care and time you put into preparing it for the recipient. What to do? We can help! Here are just a few interesting and creative ways to make your holiday gifts beautiful while also kind to the earth. And using things you probably have on hand!
Easy, green gift wraps
Wrap gifts in fabric, such as scarves, bandanas, tea towels, or cloth napkins. This type of wrapping is known in Japan as Furoshiki. There is no need to worry about finding the end of the tape or running out of paper, and the wrapping becomes part of the gift. To see how to wrap gifts using Furoshiki, check out this YouTube video.
Instead of using plastic bows, add nature to your gift. Pine clippings, boxwood, holly, cedar, pine cones, and rosemary make beautiful and sweet-smelling package decorations.
Start a new tradition. Make a cloth drawstring bag, called a Santa Sack, and reuse it each year.
Bubble wrap looks like ice and is fun to pop. Wrap gifts in leftover bubble wrap and give the gift of popping too!
Use recyclable items from around the house:

Aluminum foil
Colorful sections of the newspaper, such as the comics or ads
Magazine pages
Cereal boxes
Old sheet music
Cardboard decorated to look like a gingerbread house
Artwork from school
Paper shopping bags turned inside out and decorated
Put your artistic side to work! Leftover wallpaper scraps, yarn, string, and other items can be reused instead of buying new wrapping paper and ribbons. Old holiday cards can be made into gift tags.
With a little creativity, stuff lying around the house can become gift wrap, a gift tag, or even the gift itself!
Credit: Aiselin82 | iStock | Getty Images Plus