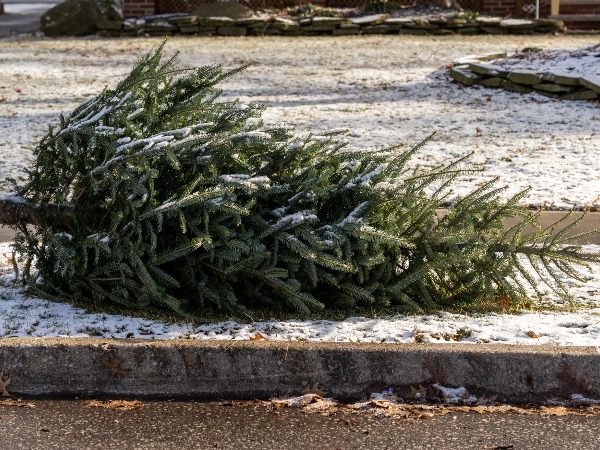 There's no time like the week between holidays to kick-start your recycling and reuse efforts! Finish the winter holidays off right by making sure all your waste and leftovers are properly reused, recycled, or disposed. Not only will you have a cleaner home, but you'll also give everyone the gift of a cleaner environment!
Live holiday trees
With holiday tree recycling programs, "undecking" the halls has never been easier. Typically, the trees are chipped and turned into mulch, so make sure that your tree is totally bare and free of lights, garlands, tinsel, and decorations, as well as the stand. Many solid waste districts offer free tree disposal through early January. Check to see how live trees may be disposed in your community and be sure to follow all instructions.

Wrapping paper and boxes
Now that your tree is on its way to a second life, let's give wrapping supplies the same chance. Any usable wrapping paper, boxes, bags, bows, or tissue paper can be folded and stored for next year. If you're careful when opening presents, this should provide most of next year's supply. Any boxes beyond reuse can be broken down and recycled. Be sure to remove tissue, plastic bags, and other packing material. Wrapping paper is also recyclable, as long as it is not metallic or metal-flecked. Holiday cards can be recycled too. However, there are some exceptions: no photo paper, no musical greeting cards, no metallic or foil paper, and no cards with ribbons, buttons, or other doodads attached. Non-recyclable cards should be put into the trash or saved for arts and crafts projects. Ribbons and bows are not recyclable but are easily stored for reuse later. If you won't be saving them, be sure to offer them for free to a local teacher or nonprofit or give them away through an online marketplace, such as Nextdoor or Facebook Marketplace. When all attempts at reuse fail, place non-recyclable wrapping supplies into the curbside trash container.
Replaced toys and unwanted gifts
Some of the gifts wrapped in those bags and bows might have replaced old toys or become unwanted toys themselves. Some stores will accept new toys without a receipt in exchange for store credit. You can always donate new or gently used toys, as well as clothes and other goods that have been replaced, to a local charity or to Goodwill and The Salvation Army.
Batteries
Some of your gifts may need batteries. Consider purchasing rechargeable batteries instead of single-use batteries. Rechargeable batteries can be reused multiple times with the help of a charging cord or device. However, even rechargeables eventually die. When this happens, be sure to recycle them.
Harmful chemicals and metals in rechargeable batteries don't belong in trash trucks or landfills and can be recycled to make new batteries. You can recycle rechargeable batteries in designated bins at home improvement stores, such as Lowe's and Home Depot, at Best Buy, or if available, at a local household hazardous waste drop-off center. Alkaline batteries do not contain hazardous chemicals and can be safely disposed in the trash.

Bulky waste
Finally, your larger gifts, like a washer or a rug, need special consideration when you dispose of their predecessors. Check with local charities to see what types of working and usable large-scale items they accept. Large, bulky items may be accepted at a landfill or transfer station where you live. Fees may apply. Check local solid waste sources for details in your community.
Electronics
More than likely, someone in your household got some new electronics. Perhaps it was a new TV, computer, tablet, e-reader, game system, or smartphone. If those new electronic presents replaced something you already owned and now no longer need, don't throw your old electronics into your trash! All electronics, no matter how small, contain chemicals and metals that can be harmful to the environment when mixed with household trash. Plus, these metals and other components can be used to create new electronics. Sell or donate usable and unwanted electronics. No takers? Check with your local solid waste authority to see if they collect electronics that no longer work.
Photo credit: Tyler Tomasek | iStock | Getty Images Plus

.