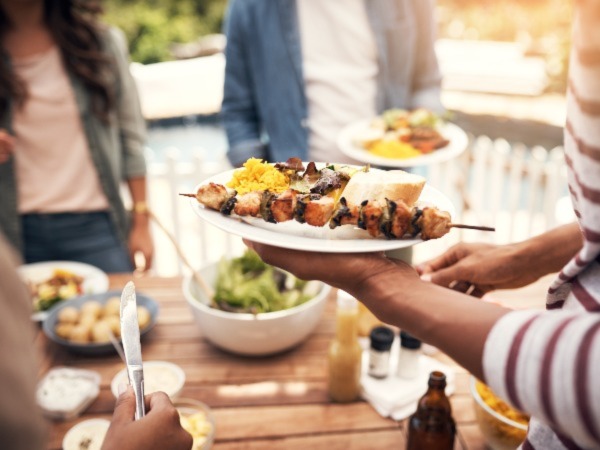 Backyard party season is still going strong and will continue into the cooler months with bonfires and tailgating. You can enjoy the company of family and friends while also making a positive impact on the environment, celebrating sustainably and responsibly.
Here are some simple yet effective ways to host environmentally friendly backyard parties without compromising on fun and enjoyment.
How to host a "green" backyard party
Embrace sustainable décor to create a charming and inviting atmosphere. When decorating your backyard, opt for sustainable and reusable materials. Consider using solar-powered string or pathway lights. Repurpose, borrow, or rent furniture. Mix and match washable napkins and tableware. Embrace nature's beauty by incorporating potted plants, flowers, and natural elements.
Reduce waste. Plan ahead so you can borrow or rent washable tablecloths, napkins, and dishes if needed. Set up clearly labeled recycling and composting bins next to trash cans. Avoid excessive packaging when purchasing food and beverages. Choose products with recyclable packaging. Consider donating leftover, unopened, shelf-stable food to local charities. Compost leftover fruit and vegetable scraps in a backyard compost bin.
Hydrate responsibly. You can stay hydrated and avoid single-serving plastic bottles. Provide water in large dispensers or pitchers and encourage guests to bring their reusable water bottles. Offer refreshing infused water with fruits and herbs for a flavorful twist. Buy soft drinks in 2-liter or gallon-sized containers and provide washable cups.
By incorporating environmentally friendly practices into your party planning, you can celebrate responsibly and inspire others to do the same. Because these suggestions also focus on reducing and reusing, you might save money, too! With a bit of creativity and conscious choices, every backyard gathering can become a celebration of both good times and greener living.
For more tips, check out Dive Into a Green Summer!
Image credit: shapecharge | E+ | Getty Images