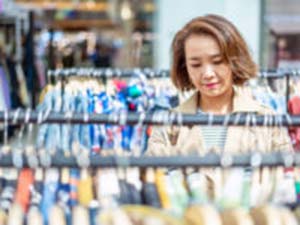 Buying and selling used items helps your community, your wallet, and the environment. But how? The sad truth is that Americans make tons of garbage — literally. According to the U.S. Environmental Protection Agency, the average American throws away more than 4½ pounds of trash per day. One way to avoid waste and to save money is to buy and sell used items. It can also be a rewarding and fun way to help the planet!
When you buy or sell used items, you are reducing and reusing at the same time. When you purchase a used item that you need, you don't buy a new one and you reduce the number of items that would have been produced otherwise. You are also reusing an item that may have been thrown away or gone unused in someone else's home. Buying used also saves money. The same concept applies to selling an item instead of throwing it into the trash, except you have the added benefit of making money and clearing out clutter.
For those who are thinking about selling used items or shopping for them, here is a list of reuse do's and don'ts.
DO's
• Give items a chance to find a second home. You never know how many people might be interested in your grandma's vintage teapot collection, and are willing to pay for it, unless you put it out there.
• Before shopping for used goods, have a plan. Shopping at a thrift store can be overwhelming, even for seasoned thrifters. Focus on what you need and try not to get distracted by things not on your list. You don't save money if you buy items you won't use.
• Have an open mind. Browsing Habitat for Humanity ReStores, Goodwill stores, Salvation Army stores, local charity thrift stores, and garage sales are all great options. If you feel comfortable with online marketplaces, check out Craigslist, Facebook Marketplace, Nextdoor, Freecycle, eBay, OfferUp, and more. When buying and selling through an online marketplace, please consider ways to stay safe, such as meeting in a public location for the purchase exchange.
• Be realistic. If you have something you don't need and it isn't worth much or might be hard for you to move or dispose of, consider offering it for free. You will save the hassle and expense of transporting and landfilling it and someone might have a use for it.
• Do your homework. Look for reviews of the item you are shopping for ahead of time to spot potential problems. If you have a smartphone, look up the going price for used items. If purchasing something online, look for clear pictures and accurate measurements. Most reuse items are nonreturnable.
DON'Ts
• Don't feel like others are judging you. People don't really care if you are shopping for used goods. If you are worried about seeing someone you know at the thrift store, remember that everyone there, including you, is working to help the Earth and our community.
• Don't try to sell dirty or damaged items at high prices. If you are trying to sell your used goods, thoroughly clean each item, take good pictures, and accurately describe them. Price your used items fairly based on their condition and useful life remaining.
• Don't be discouraged if you don't find what you are looking for right away. Reuse marketplaces often have a fast turnover, so you will most likely find a treasure the next time you give it a try.
Most importantly, have fun and be patient. Every successful reuse transaction is a win for you and our environment! And, if you have items that you don't want to sell, consider donating gently used goods to local charities or in community drop-off bins.
Photo credit: Young777 | E+ | Getty Images