Paper looks at fastest growing waste stream — textiles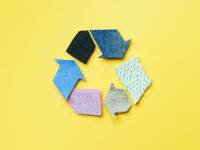 Last summer, Resource Recycling Systems (RRS) released a white paper, "Textile Recovery in the U.S.: A Roadmap to Circularity," to describe the textile waste stream and provide recommendations to best reduce, reuse, and recycle these materials. The paper describes how textile waste is growing faster than any other waste and requires a new "textile recovery system" to create more sustainable supply chains and better recover these materials.
"As one of the fastest growing waste streams, used textiles are a largely untapped resource," the paper states. "The time is ripe for action throughout the industry value chain to transform textile manufacturing, use, and recovery into a truly sustainable and resilient system."
Between 2000 and 2017, textile waste increased 54% per person despite a 5% overall decrease in waste generation, according to the paper. RRS believes this creates an opportunity and writes, "Solving for textile waste in the United States can have a measurable global impact on the upstream investment of human and natural capital like oil, cotton, energy, water, and chemicals used to make textile products."
Considering the growth in textile waste and the opportunity to improve the overall textile production system, RRS encourages the industry to rethink the textile supply chain by collecting, recycling, and reusing textiles. To do this, the paper's recommendations include convenient collection systems and textile sorting facilities that separate textiles based on quality and fiber type and then allow them to be reused or recycled.
To successfully reduce textile waste, companies and individuals need to reconsider the amount of clothing and fabric we purchase, create, and dispose. While the paper calls on industry leaders to reduce environmental impact and develop sustainable models, we can also do our part by purchasing only the clothes we need, reusing or recycling old upholstery or rugs, and donating usable textiles we don't need.
Instead of throwing away your clothes, sheets, curtains, rugs, and other textiles, please donate clean, gently used items to local Goodwill stores or other charitable organizations.
Photo: Fascinadora |iStock | Getty Images Plus