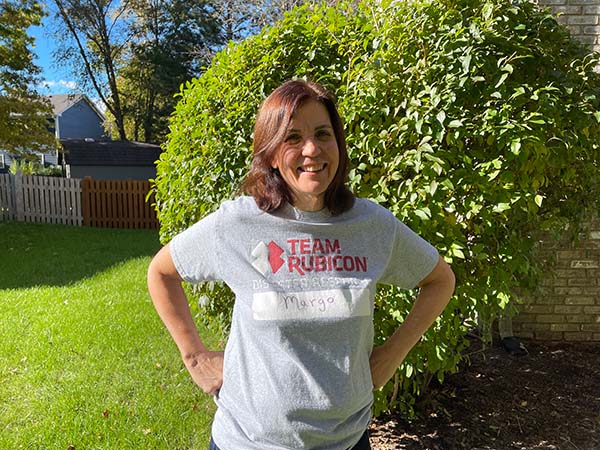 Our hard-working team delivers the content you can count on to help educate your community about local solid waste issues and programs. Our team members also do good works in their local communities.
Eco Partners, Inc. staff writer Margot Gibson joined an ambitious and diverse group of volunteers this month to provide needed items to the 6600 Afghan refugees currently housed at Camp Atterbury in Central Indiana. As a "Greyshirt" volunteer working with the disaster relief organization Team Rubicon, Margot sorted and packed clothing and hygiene items and enjoyed helping supervise craft projects with the Afghan children on the military base.
"In Indiana we have such an impressive volunteer base," notes Margot, "men and women in the Indiana Guard Reserve, retired people, members of houses of worship, and individuals just wanting to help. The experience has been both rewarding and humbling. As a side note, I have never been called "Ma'am" so many times in my life!"
The relocation of Afghan families into communities across the United States creates an opportunity to assist people in need. Team Rubicon is working in coordination with the Department of Defense and other organizations to meet unfolding humanitarian needs for refugees. It's mission is "providing relief to those affected by disaster, no matter when or where it strikes." It pairs the skills and experiences of military veterans with first responders, medical professionals, and technology solutions and aims to provide the greatest service and impact possible. While the bulk of Team Rubicon's ranks are filled by military veterans, their efforts are reinforced by first responders as well as determined individuals, like Margot, who have never served in uniform Thanks, Margot, for sharing your Hoosier Hospitality!