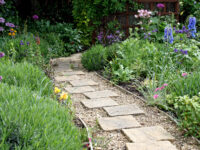 Go for a for a "greener" landscape instead!
Who says you have to grow a turf-grass lawn like everybody else? Not Evelyn Hadden, that's for sure. Her popular book, Beautiful No-Mow Yards: 50 Amazing Alternatives, will inspire you to create a landscape that will thrive in your climate, given the unique characteristics of your yard.
According to Hadden, "Lawns are merely outdoor carpets… a lawnless or less-lawn landscape can fascinate us with its beauty, complexity and variability. It can cool us in the summer and hoard warmth in the winter. It can open our senses to new aromas and flavors, sounds and textures. It can be a window into the daily lives of an astonishing variety of other creatures. It can spur us to wonder and to explore. It can revive our bodies and recharge our minds. Far beyond just providing an open-air stage for our lives, a robust and vibrant landscape can enrich them immeasurably." Check out Hadden's video tour for ideas!
You can add a water feature, a rock path, flower beds, or a patio area with seating. For more ideas, Lawn Gone!: Low Maintenance, Sustainable Attractive Alternatives for Your Yard by Pam Penick is another resource if you're interested in removing yourself from the treadmill of chores that a regular turf-grass landscape requires. In addition to plant suggestion guides divided by region, this book offers helpful hints on dealing with homeowners associations, skeptical neighbors, and pests.
You may want to keep some turf-grass. Just remember to develop green habits in caring for it by grasscycling. When you grasscycle, you allow the clippings, which will break down quickly, to fall back onto your lawn. As the clippings decompose, they provide your turf-grass with both nitrogen and moisture. You don't need a special mower to grasscycle; you can simply remove the bagging attachment from your mower and insert the chute cover, if needed for safety. Not only is grasscycling better for the turf-grass you keep, but it will also save you time and lower your water bill.
Photo credit: ChrisSteer | iStock | Getty Images Plus