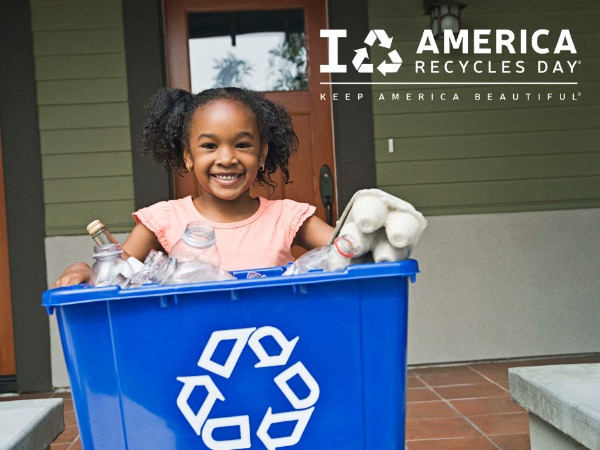 Each year in November, we celebrate America Recycles Day to remind us about the important economic and environmental benefits of recycling and to help motivate occasional recyclers to become everyday recyclers. Since the early 2000s, the amount of waste recycled or composted in the U.S. has stayed between 30% and 35%, while at least 60% of most household waste is recyclable or compostable. This America Recycles Day, the U.S. Environmental Protection Agency (EPA) and Keep America Beautiful ask us to find new ways to reduce, reuse, and recycle to help meet the goal of increasing our national recycling and composting rate to 50% by 2030.
Recycling is the easiest thing we can do 365 days a year to save energy, conserve natural resources, and create green jobs. This America Recycles Day, take the pledge to help America improve its recycling rate while recycling right. First, "precycle" by selecting locally recyclable products and packages when you shop. Then, find out what is accepted for recycling in your community by reaching out to your local solid waste management authority. Next, collect empty, clean, and dry recyclables and deliver them to the curb or a drop-off center for processing. Finally, close the recycling loop by buying recycled-content products. Do this by checking for terms like "post-consumer recycled content" on the label or package.
Nationwide, Americans recycle about 68% of paper and paperboard, but just 9% of plastics. Think about items you might not normally recycle, like shampoo bottles or empty toilet paper and paper towel tubes, and make an effort to focus on recycling them this year. Each fall, America Recycles Day reminds people that recycling is a simple activity which saves energy, conserves resources, reduces air and water pollution, and helps create jobs. Visit America Recycles Day to pledge your support and to learn what you can do to recycle more at home, at school, or at work. With everyone pitching in, we can meet the nationwide goal of a 50% recycling rate by 2030. Thanks for doing your part!