Are you looking for some New Year's resolutions and daily inspiration for 2022? Do you like ideas that improve your family life, community, and the environment?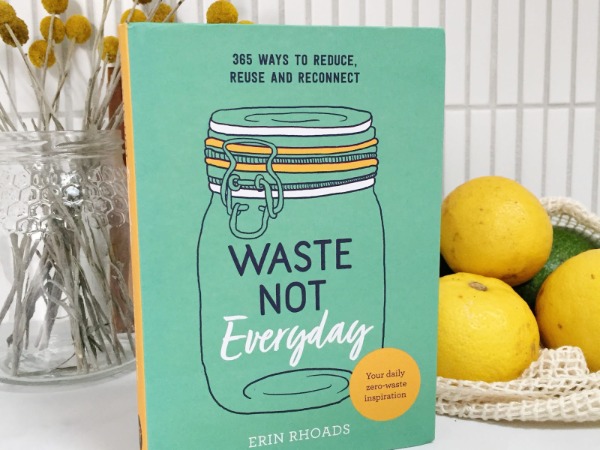 If you answered "yes," check out Waste Not Everyday: 365 Ways to Reduce, Reuse and Reconnect by Erin Rhoads. You'll find daily inspiration for your low-waste journey. Her tips are short, usually just a sentence or two, and easy to implement. Plus, Rhoads focuses on kindness and community-building, both of which will make for a better new year.
From Erin's website, the book is described as, "Split into four easy-to-follow parts, Waste Not Everyday features simple tips that will lead to a real shift in thinking and action and show you that a zero-waste lifestyle is actually achievable – for everyone, every budget and every schedule. With tips ranging from actions and inspiration to recipes and resources, Erin Rhoads, well-known zero-waste advocate and author of Waste Not, takes you on a gentle journey towards a life with less waste and more meaning."
In her June 2021 blog post, Why Individual Actions Matter, Rhoads says, "individual actions prompt conversation and education in our close circles and wider communities that can run all the way to boardrooms. According to Gerald Mackie, Ph.D., people cannot be forced to change their ways by outlawing or preaching. Empowerment through community action and integrating new policies into existing culture is the fastest way to enact change."
Sarah Wilson, New York Times best-selling author of I Quit Sugar, Wilson said this about the author Rhoads, "Erin shows us how [to reduce our environmental imprint] in the most truly responsible way possible – by walking her talk out in front of the movement. I've followed Erin's campaigns and successes for a number of years, and she is a true agent of change."
For longer articles and more ideas, follow Rhoads's blog.
Photo courtesy of Erin Rhoads