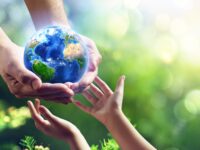 By the mid-20th century, pollution was so dire it required attention in the United States. In 1969, Gaylord Nelson, a U.S. Senator from Wisconsin, got the idea for a national event addressing the pollution problem and a need for change. On April 22, 1970, this first "Earth Day" brought 20 million Americans into the streets to call for clean-up efforts and better treatment of the lakes, rivers, oceans, air, and land that make up the United States.
This first Earth Day brought together Americans of all backgrounds and political parties. By the end of 1970, Congress passed the first environmental protection laws, and President Nixon created the Environmental Protection Agency. Over the next several years, Congress passed more acts to protect the people, land, wildlife, and water that make up America, such as the Clean Air Act and Endangered Species Act.
Earth Day 1970 sparked a change in the United States, but it wasn't until 20 years later that Earth Day took off globally. In 1990, original Earth Day organizer Denis Hayes took the campaign to 141 countries where 200 million people came out on April 22 to promote environmental issues. After Earth Day 1990, the United Nations held its first Earth Summit in 1992, and recycling efforts increased across the globe. Earth Day was officially an annual, global event.
Since 1990, global citizens have celebrated Earth Day every year, bringing attention to climate change and a need to protect our planet to increasingly more people. Recently, Generation Z has taken the strongest stance on environmental issues, holding rallies and creating non-profits such as Zero Hour and Greta Thunberg's Fridays for Future. More global corporations have released pledges to change their business models to reduce environmental impact, as climate change policies also appeared prominently for the first time in America's presidential election campaigns. In 2020, Pew Research Center reported that 64% of Americans believed our government should make dealing with climate change a top priority.
While we still have work to do, the progress and action Earth Day inspired are why we have clear air and water in the United States and environmental laws and policies across the globe. This success, a new wave of activists, and the chance to rebuild after the coronavirus pandemic offer us hope that inspires us to keep working to protect our environment.
You can help by recycling right, reducing the amount of waste you create, reusing as much as you can, repurposing items around your house, and just appreciating nature and the world around you. Consider supporting a local organization that helps keep your community environmentally-friendly or organizing a neighborhood clean-up or information campaign. In both big ways and small, Earth Day inspires us all to do our part.
You can learn more about the history of Earth Day. And for details about how the world has changed since the first Earth Day, both progress and challenges, check out The New York Times' interactive article.
Photo Credit: RomoloTavani | iStock | Getty Images Plus