We don't count sheep; we count you!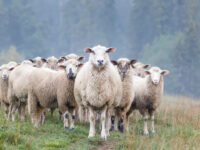 When I'm worried and I can't sleep,
I count my blessings instead of sheep,
And I fall asleep counting my blessings. ~ Irving Berlin
Can you hum along to the lyrics from this iconic song in the movie, White Christmas? Set in the years after another difficult time, World War II, this movie and song remind us to end the day with thoughts of the good things that have come our way, even in the midst of a year as challenging as 2020.
We count the opportunity to work with you in your community as one of the very good things that has come our way this year. We hope the end of 2020 gives you many moments to reflect on the good things in your life, share special times with family and friends, and curl up on the couch to watch your favorite holiday movies.
All of us at Eco Partners wish you and yours a happy, healthy holiday season!
Elizabeth, Gary, Margot, Leeann, and Julanne
Photo credit: Antagain | E+ | Getty Images