Our son will be a high school senior this year. Last weekend, we did a bit of back-to-school shopping. I emphasize "a bit." Each year, we have had Vic bring home his unused school supplies. We put them into a crate with his backpack. As the school year nears, he checks to see what he might be missing and we go purchase additional items. This year, that amounted to a very small bag from Target with a few spiral notebooks and some #2 pencils. Not only have we saved a lot of money every year, but we've reduced the amount of unused materials that go to waste!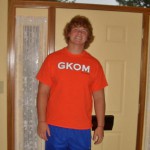 For families with children at home, back-to-school shopping season is here. A survey in 2012 by Parenting.com and Women & Co. found that parents spent an average of $131 on clothing and $48 on school supplies per child. Surveys by the National Retail Federation and American Express suggest that those numbers are low because they fail to account for technology purchases, such as laptops, tablets, and cell phones. Those surveys estimated total family spending at $688 to $800 on average.
Our family is proof that you can lower these costs and still get your kids what they need. Use leftover supplies from last year. Reuse last year's backpack. Resist the urge to upgrade working electronics. Shop for gently used clothes at garage sales or secondhand stores. And, remember, when you do need something new, look for recycled-content products, such as paper, notebooks, folders, and T-shirts.
As a proud mom, I couldn't resist the urge to "include" Vic in this post. In the first picture, he is ready for his first day of Pre-K and, in the second, for his first day of junior year.
Have a great school year!
Elizabeth